HACCP is a management method in which food safety is addressed through the analysis and control of biological, chemical, and physical hazards from raw material production, procurement and handling, to manufacturing, distribution and selling finished product.
HACCP is designed for use in all segments of the food industry from growing, harvesting, processing, manufacturing, distributing, and merchandising to preparing food for consumption. Prerequisite programs such as current Good Manufacturing Practices are an essential foundation for the development and implementation of successful HACCP plans.
1959

The Pillsbury Company (US) designed HACCP method for food safety in the US space program.

1973

The US Food and Drug Adminsitration (FDA) mandated HACCP-based regulations for low-acid canned foods.

1993

The Codex Alimentarius Commission adopted Guideline for the Application of the HACCP system.

1995

The FDA enacted laws mandating HACCP for Seafood businesses.

1996

The USDA enacted laws mandating HACCP for Meat and Poultry.
The Japan Ministry of Health, Labour and Welfare enacted Food Sanitation Laws.

1998

The Japan Ministry of Health, Labour and Welfare and the Ministry of Agriculture, Forestry and Fisheries enacted the Law on Temporary Measures for enhancing Control Method of the Food Production Process - the Act of Implementation Supports of HACCP Techniques which is about preferential treatment concerning finances and taxes.

2001

FDA finalized the juice HACCP regulation.
Hazard Analysis:

The process of collecting and evaluating information on hazards associated with the food under consideration to decide which are significant and must be addressed in the HACCP plan.

Critical Control Point:

A step at which control can be applied and is essential to prevent or eliminate a food safety hazard or reduce it to an acceptable level.

HACCP PRINCIPLES

HACCP is a systematic approach to the identification, evaluation, and control of food safety hazards based on the following seven principles:

Principle 1:

Conduct a hazard analysis.

Principle 2:

Determine the critical control points (CCPs).

Principle 3:

Establish critical limits.

Principle 4:

Establish monitoring procedures.

Principle 5:

Establish corrective actions.

Principle 6:

Establish verification procedures.

Principle 7:

Establish record-keeping and documentation procedures.
The production of safe food products requires that the HACCP system be built upon a solid foundation of prerequisite programs. Each segment of the food industry must provide the conditions necessary to protect food while it is under their control. This has traditionally been accomplished through the application of GMPs. These conditions and practices are now considered to be prerequisite to the development and implementation of effective HACCP plans. Prerequisite programs provide the basic environmental and operating conditions that are necessary for the production of safe, wholesome food. Common prerequisite programs may include :
Facilities

The establishment should be located, constructed and maintained according to sanitary design principles. There should be linear product flow and traffic control to minimize cross-contamination from raw to cooked materials.

Supplier Control

Each facility should assure that its suppliers have in place effective GMP and food safety programs. These may be the subject of continuing supplier guarantee and supplier HACCP system verification.

Specifications

There should be written specifications for all ingredients, products, and packaging materials.

Production Equipment

All equipment should be constructed and installed according to sanitary design principles. Preventive maintenance and calibration schedules should be established and documented.

Cleaning and Sanitation

All procedures for cleaning and sanitation of the equipment and the facility should be written and followed. A master sanitation schedule should be in place.

Personal Hygiene

All employees and other persons who enter the manufacturing plant should follow the requirements for personal hygiene.

Training

All employees should receive documented training in personal hygiene, GMP, cleaning and sanitation procedures, personal safety, and their role in the HACCP program.

Chemical Control

Documented procedures must be in place to assure the segregation and proper use of non-food chemicals in the plant. These include cleaning chemicals, fumigants, and pesticides or baits used in or around the plant.

Receiving, Storage and Shipping

All raw materials and products should be stored under sanitary conditions and the proper environmental conditions such as temperature and humidity to assure their safety and wholesomeness.

Traceability and Recall

All raw materials and products should be lot-coded and a recall system in place so that rapid and complete traces and recalls can be done when a product retrieval is necessary.

Pest Control

Effective pest control programs should be in place.
Restaurant HACCP management
HA : Hazard Analysis in restaurants.
CCP : Management to Critical Control Point in restaurants.
HA(Hazard Analysis) in restaurant
Biological Hazard Analysis

-

Bacterias, viruses and parasites and so on.

Chemical Hazard Analysis

-

Venom, poisons, pesticide residues, powerful medicines, washes, insecticides, allergens and so on.

Physical Hazard Analysis

-

Pieces of metal brushes, chipped kitchen knives, broken glasses, some mechanical parts, plastic and injurious hard bones and so on.

Quality Hazard Analysis

-

Hairs, insects, worms, pieces of vinyl, wood, paper and so on. or unpleasant foreign materials for the customers.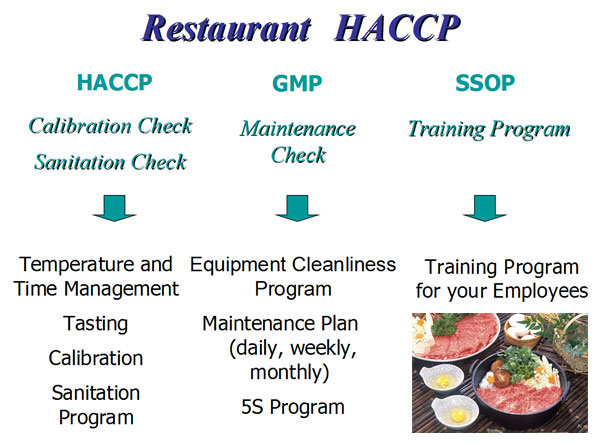 (C) 2009 Quality Rescue Corporation